About the city
Cracow is one of the places in the world which have been included in the UNESCO World Cultural Heritage list. The architectural complex of the Old Town has survived all the cataclysms of the past and preserved the same, unchanged layout since the Middle Ages. The Old Town together with the Wieliczka Salt Mine have been recognized as some of the most valuable architectural treasures of the world. There are over 300 town-houses and 58 churches and palaces, all considered historical monuments just within the old centre of Cracow and that is just a small part of all the monuments of this city. Cracow, which had been the capital of the Polish state until the 17th century and has kept the character of a spiritual capital till the present day, is at the same time an important cultural centre. Cracow is the oldest Polish academic centre, with the Jagellonian University founded in 1364, the second oldest university in Central Europe.

How to get there
A number of flights connect Cracow airport, the John Paul II International Airport Kraków-Balice, to many international destinations. For details please visit the page: http://www.krakowairport.pl/en
Cracow is also well connected to the railway and roads. Useful links and maps you can find here:
http://www.krakow.pl/en/turystyka/?id=transport.html
From the Cracow airport you can reach the town by taxi (approximate price 70-90 zloty
i.e.
about 17-22 EUR), get to the Main Railway Station/Bus Station by bus #208 or #292 (
bus time table
) or by train (recommended) from Balice to Kraków Główny (approximate 19 zloty
i.e.
about 4,5 EUR,
train time table
).
For reaching the institute here you have some suggestions:
Tram 4, 13 or 24 to "Bronowice Małe".
Get off at "Balicka Wiadukt" and walk 700m towards the north along "Armii
Krajowej".
The institute is at the north-west corner of the traffic square.
Bus 173 to "Azory".
Get off at the traffic square "Rondo Ofiar Katynia".
The bus stop is at the south-east side of this traffic square.
The institute is at the north-west corner of the traffic square.
More information regarding the public transport can be found at:
http://www.mpk.krakow.pl/en/page-70cdbe44/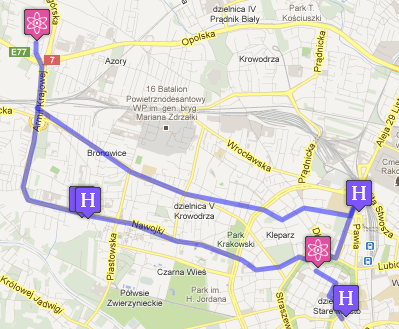 Sightseeing
The guided tour will start at 3:00 p.m. (8th September 2013) from the Maria Magdalena Square (Google Maps link is
here
). Please, try to be on time.
Guided tour of Cracow has been prepared for the participants of the school (the charge for this event is included in the registration fee). During the afternoon/evening on Sunday September 8, there will be a possibility to join a excursion along
The Royal Road in Cracow
. The programme includes visiting
The Royal Castle
and
The Cathedral
on
Wawel Hill
,
Collegium Maius
(Poland's oldest university building),
St. Mary's Church
and
The Main Square Underground
.
However Cracow has many other historical attractions which are worth to see. We would like to encourage everyone to visit them on your own. Among the most famous are:
If you plan to stay in Cracow a bit longer (one or two days), you might want to consider visiting
Wieliczka Salt Mine
(one of the oldest salt mines in Europe) or
Ojców National Park
. More information about the city and the surrounding area can be found in the following links: